3-Year Guarantee plus a LIFETIME* Warranty
---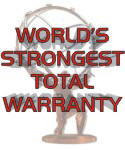 This is the STRONGEST TOTAL WARRANTY for Digital LED Video Displays or Electronic Message Centers in the industry!
If ANY part of a Sunburst Displays™ video display or electronic message center fails in the first three years of service, if properly supplied with power, Sunburst Displays™ will provide BOTH parts and service FREE OF CHARGE through our authorized representative where the sign was purchased.
Even stronger, this Initial Warranty is extendable to six years. Some warranties can literally last Forever™. Ask for details.
Plus, Sunburst Displays™ warrants this sign with a LIFETIME* WARRANTY, again through our authorized representative where the sign was purchased. This warranty reduces both our normal labor rates for service, and parts costs, 20% forever.
Our LIFETIME* Warranty is transferable at no additional cost!
<![if !vml]>
<![endif]>Virtually no other Digital LED Video Display or Electronic Message Center manufacturer IN THE WORLD provides a warranty on ANY labor, much less a transferrable warranty.
Additionally, after the Initial Warranty period, Sunburst Displays™ will provide free replacement parts for any previously replaced part that fails within one year of installation.
* See our complete warranty for full details.
Also, Sunburst Displays™ is insured, registered, licensed and bonded per City and State regulations, and carries product liability insurance.
We offer all our customers to be listed as "Additional Insured" for free on our $3,000,000 insurance policy providing coverage if we default.
And as "Additional Insured" on our $25,000,000 Worker's Compensation/Accident Insurance.
Our Guarantees and Warranties are real, not stories told trying to get an order. A guarantee or warranty is only as strong as the people backing it. We're the actual manufacturer, not some middle-man with little investment, and our Lifetime Warranty is 39 years long – so far!
Zap Protection™
- Optional Electrical Surge and Lightning Protection
---
Electrical surges on a sign's incoming power supply, and lightning strikes, are not covered by any manufacturer's warranty, and they are common in Texas.
As technology has moved us from the use of electrical components such as core-and-coil ballasts to electronic components, primarily to reduce power consumption, the susceptibility of a sign to damage from electrical power surges or lightning strikes has increased dramatically. Old-style electrical components are simply no longer available in most cases.
Sunburst Displays™ offers surge and lightning Zap Protection™, at a reasonable additional cost, adding components to signs to lower the potential for damage from an occurrence. The devices are over 90% effective in case of an occurrence.
150 VRMS clamping volts for ground, 310 VRMS for line. Maximum surge current 100,000 amps, 0-400 Hz, UL Listed.
Zap Insurance™ -
Electrical Surge/Lightning Insurance
---
Unfortunately no surge/lightning protection system is 100% effective.
Your property insurance should cover this eventuality. But if it doesn't, we will cover this continuing risk with optional electrical surge/lightning Zap Insurance™, available for signs which have our electrical surge/lightning Zap Protection™ (above) installed.
If a Zap Insured™ sign is damaged by either electrical surge or lightning strike we cover all costs of repair, up to and including replacing the entire sign if it is destroyed by an occurrence.
No other sign company offers electrical surge/lightning protection, or this assurance; in fact many are using these events to make more money.
"Surge damage is not covered under our warranty and when we suspect surge we charge for the replacement parts...We found the internal fuse…had blown."
Laura Rein**n, Customer Service Supervisor, Wat***ire Signs (Rather than return warranted parts to service with new fuses, or let us replace fuses, they charge the customer for new parts.)

"Our ($70,000) electronic-message-centers were nightmares. Even though they were only 2 years old the manufacturer refused to service them. Your new signs, and your service, have been exceptional."
Major Vincent, Salvation Army

"...I had to hound Vital ***** (a sign broker) for weeks and weeks, then I had to call ******** (the manufacturer) to finally get a hold of Vital *****. I thought Vital ***** was taking my deposit money and running. When he asked for the second deposit I was kind of hesitant based on my experience with him. I did some research on Vital ***** and there were judgments in Dallas County, civil judgments for Vital ***** taking money and not putting up a sign! But the manufacturer said I had to deal with him, and he already had a great deal of my money.

The installation company he subcontracted with, City *****, finally did show up and after giving them another $30,000 the sign was installed but City ***** didn't pay Vital *****, I guess, his "fair cut" of it.

Vital ***** was initially mad at City ***** and then he was mad at me, so he came and took the controller out of the sign so now it doesn't even work! I tried to go back to ******** (the manufacturer), and gave them all of the documentation and they said it's between me and Vital *****, they won't do anything about it. I'm never dealing any way but directly with a manufacturer again!"
Mr. Sinkler, Freedom Wash

"...the sign will be dismantled. ...not knowing when and how to get parts was a major factor..."
Cathy Clarke, Johnson Elementary School, Southlake. They are throwing away their $40,000 six-month old sign because they can't get parts to repair it (company out of business.)

"We bought an Adapxxxx Displays LED Message Center. I'll be glad when the warranty has expired and I can justify a new Sunburst LED Display. So far the labor installing our "free" repair parts is over $6,000."
Miles Pennington, Trinity Valley Community College

"We have spent over $6,300 installing warranty parts in our LED message center. Wish we had your warranty!"
David Worley, Harvest Church